Days at the Docks Festival
Posted on 04/10/2014 in Holden Beach
If you're planning a visit to Holden Beach, North Carolina, you might want to schedule it during a time when there are Holden Beach local events going on. One of the most popular events held every year is Days at the Docks held on Jordan Blvd., under the Holden Beach Bridge. This popular two day event will take place Saturday, April 26 and Sunday, April 27, 2014.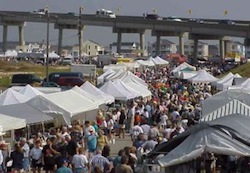 This is how the North Carolina locals kick off Spring and the official start of the vacation season. The days are filled with plenty of arts and crafts vendors and lots of food! Come prepared to dance because there will be live music and other entertainment. You just won't be able to sit still – nor should you! Be sure to take part in the horseshoe tournament and the world famous "Bopple Race."
The kids will love the children's area that will be set up both days to include a Home Depot workshop, The Almost Amazing A with his Awesome Balloons, Miss Jenn's Face Painting, Harvest Fellowship and lots of new games and prizes!
Here's the schedule for the upcoming weekend:
Saturday, April 26
9:30 to 12 noon Fat Jack Band will perform in the Pavillion
9 a.m. Registration begins for Cardboard Box Paddle Race
1 p.m. Cardboard Box Paddle Race Begins
1:30 to 4 p.m. Legree Graham Band performs in the Pavillon
6 p.m. Street Dance with The Fabulous Daddy O's performing at the Holden Beach Pavillion. Bring a chair and your dancing shoes!
Sunday, April 27
8 a.m. Worship Service
9:30 a.m. Motorcycle and Car Show
10 a.m. to 12 Noon Parkton UNC Praise Band
12 Noon Rock the Dock Singing Competition
1 to 3 p.m. Pantastic Steel
3 p.m. Bopple Race
3:30 p.m. Awards will be handed out to winners and closing announcements will take place.
BoBopple Sales will be held up until race time at 3 p.m. on Sunday. Price is $1.00 each, 6 for $5.00 or a full sheet for $35.00. There will be three $100 winners and you do not need to be present to win.
Free admission and free parking for Days at the Docks 2014!