11/19/2019 in Oak Island
It's hard to believe that the holidays are just about here and now is the time to start thinking about decorating your home. While there are many homeowners who have already started decorating the inside of their home, they haven't started on the outside. Getting your front porch decorated at your Oak Island vacation rental ready for your guests this winter. Let's take a look at a few ways of how you can get your front porch ready with holiday décor below.
Garland
Garland these days are easy to find whether you're looking at a hardware store such as Home Depot or Lowe's or at a local retailer. One of the new trends this year to use in decorating with garland is to get Eucalyptus Garland. This is not only inexpensive but is also a nice touch to your holiday décor. If you would rather purchase other garland such as pine and spruce, then your front porch will smell divine. Adding a homemade wreath with the garland will also add a little spunk to your front door as well.
Lanterns & Planters
Lanterns inside your vacation home is beautiful, but how about bringing them outside to sit on your front porch. Adding lanterns and planters to your front porch will not only give you more reasons to go shopping and decorating your home. Add some flowers or how about little topiary trees and set right by your front door. Adding a few extra things to the lanterns and planter boxes will light up your front porch for your guests this holiday season. A few things that you can add to them to be more festive is bows, garland and ornaments. This is a great way that you can decorate your front porch year-round too.
New Welcome Mat
Getting a new welcome mat for your vacation rental will not only allow your guests to feel welcome, but it can also spruce up your front porch too. The latest craze is for you to make your own mat by purchasing a place one at the store, getting spray paint and a making a stencil. This way can help save you some money rather than purchasing one from the store. These days however you will be able to find one that you love and that has a cute holiday picture or saying. No matter which way you decide to go, having a new welcome mat is a perfect addition to your front porch.
There are many other ways that you can decorate your Oak Island vacation rental, but these are the few we wanted to share with you. If you are still looking for your vacation rental or home, allow one of our agents to assist you. We hope that you and your family have a wonderful Thanksgiving and spend time with your family!
---
07/09/2018 in Oak Island
Do you take a yearly family vacation to the beach each year? Have you ever considered purchasing a property that you could use as a vacation rental property as well to help bring in a little extra income? Purchasing an Oak Island Vacation Rental is something that can be made possible.
Depending on where you want to be in Oak Island, there are many properties that are for sale for a good price. Many of the homes that we have for sale have an existing rental history which in the long run can be good especially if you are going to use the property a few times a year for your personal use. Many families flock to Oak Island during the summer months because the island has a nostalgia feel which many want. Just as if you are visiting a place in the past, Oak Island is just the perfect vacation destination for families with children of all ages. If you want a big beach home, condo or land to build your own home, we have it all for you!
Oak Island is very family friendly and has so much character that why wouldn't you want to have a vacation home here? It is not too far from other local beaches and towns for you to explore. Wilmington, NC is just to the north of the island and Myrtle Beach, SC is to the south of the island. Some other local towns that you can visit is Southport, NC which happens to be a quaint little town with its southern charm.
No matter what you're looking for in an Oak Island beach vacation home, we at Re/Max at the Beach will help you find the perfect home! Just give us a call at 910-842-8686 today for more information on purchasing your very own vacation rental property at Oak Island, NC.
---
05/23/2014 in Oak Island
Earlier this month CBS News released the results of a survey they did when looking for the Top 10 Beach Towns for Retirees. We're thrilled to announce that Oak Island, North Carolina, came in at #3. That's no surprise to anyone that already lives in the area because it is such a beautiful and peaceful location with a small-town atmosphere that appeals to many. But for those looking around for a good place to retire, we hope you make the most of this recommendation and come take a closer look. If you're interested in seeing what Oak Island real estate is available start with our Re/Max at the Beach website.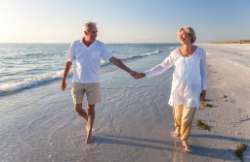 It's a perfect location for anyone that wants to live near the water. The Town of Oak Island has 65 public beach accesses on its 14 miles of south-facing sandy beachfront. Fishermen and boaters of all types will appreciate the fishing docks and piers, 3 public boat ramps, and many other access points to the Davis Canal and Intracoastal Waterway. This is truly a wonderful place to retire to if you love fishing, kayaking, boating and other water sports.
There's also a municipal golf course in the town as well as eight parks, a fishing T on the island's west end and a large park on the mainland that provides both baseball and football fields for public use. When the kids and grandkids come to visit they're sure to enjoy the skate park and dog park, too, a cabana on the oceanfront with an observation deck and plenty of assorted piers and two marinas worth checking out.
Most of the island belongs to the Town of Oak Island as well as areas on the mainland around both bridges, thousands of undeveloped land near the Swain's Cut Bridge and the golf course community of South Harbour Village. Retirees looking to stay active will appreciate the extensive sidewalk system for bikes and pedestrians to enjoy, recreation trails, numerous parks and playgrounds and a full service parks and recreation department. There are many programs and activities aimed toward retired citizens at the Parks & Recreation Department and the Oak Island Senior Citizens Center.
You'll also have easy access to a business district that includes convenience stores, banks, coffee houses, art galleries, ice cream parlors, bakeries, retail shops, restaurants, pubs, motels, service businesses, real estate and professional offices and medical facilities. The beachside of the island includes motels, rental cottages and condos, restaurants, piers, a few retail shops, pubs and a marina.
When you're ready to talk about real estate in Oak Island NC give us a call at Re/Max at the Beach at 910-842-8686 or 800-360-9770. If you'd prefer you can visit the Contact Us page on our website and we'll get in touch with you.
---
02/12/2014 in Oak Island
Now that we have your attention we want to tell you that as of this writing we really do have 595 excellent reasons to purchase real estate in Oak Island. Some of them are sizable plots of acreage just waiting for a dream home to built upon them, others are oceanfront, bayside, neighborhood homes, condos, and plantation or golf course view properties. We can promise you this — all of them are stunning.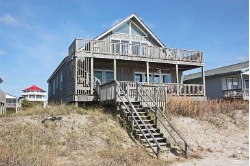 With real estate prices starting at $15k for acreage and going upwards to $20M there is plenty to choose from whether it be Oak Island beach, mainland, or wooded real estate. Take a look at this west end property on Oak Island. It's two houses in one and offers oceanfront living. Six bedrooms, 3 full baths, 2 kitchens, 2 dining/living areas, and 2 oceanfront decks. The property is 2,401 square feet and sits on .1718 acres in the W. Long Beach neighborhood. The home is being sold fully furnished so pack your suitcase and move right in!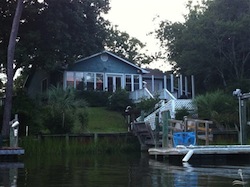 This home is ideal for the boat owner looking for Oak Island property with a dock and boat lift. It sits right on Davis Canal. The 1,601 sq ft home has 3 bedrooms and 2 baths and is located in Tranquil Harbor offering incredible water views. It has an oversized corner lot and provides privacy, a large yard and easy living on the waterfront.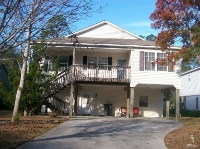 Another home located on Tranquil Harbor with 1,473+ square feet. With 3.1 bedrooms and 2 baths it's plenty big for your growing family and quite affordable. Amenities include a fireplace and cable TV. This home provides the luxury of multigenerational living. The upstairs features a spacious 3 bedrooms and 2 baths while the downstairs is another 1,109 sq ft of living space with a kitchenette, bedroom, living room, bath and laundry. Call it a mother-in-law apartment of call it a rental unit, either way it will work to your advantage!
When you're ready to look at properties on Oak Island give Re/Max at the Beach a call at 910-278-1950 or 866-350-7653 and we'd be happy to work with you.
---
01/08/2014 in Oak Island
When you're in the market for buying high end real estate don't even think about going it alone. When you have Oak Island realtors like Re/Max at the Beach by your side you're more likely to find out about those high end properties long before they appear in your local real estate pamphlet or newspaper. That means you'll be reading about them, touring them, and possibly even making an offer before the person going it alone even knows the property is on the market. What's not to love about that!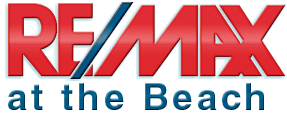 As the leading Oak Island realtors in North Carolina we want to work with you not for you. Unlike some real estate agencies, we listen to what you tell us your requirements are for your next home and we keep that in the forefront of our mind until our mission is complete and we've found you that perfect property. You'll find our agents to be dedicated to providing you with exceptional service. In addition to that, they're always willing to go above and beyond to give you a five star experience.
When it comes to finding that perfect Oak Island property for you and your family you need to be able to put your trust in the real estate agency you work with. We want to be that company. We're very knowledgeable of the Oak Island area and have the experience to find you exactly the home you're looking for. Our reputation for outstanding customer service will reassure you that you're in good hands. No matter if you're looking relocate to a new primary home in the Oak Island North Carolina area, buy a second home, or sell your home, our experienced real estate team can meet and exceed all of your expectations!
Give us a call at 910-278-1950 or 866-350-7653 and let us show you how we can help you find that high end Oak Island property you're seeking.
---
11/26/2013 in Oak Island
Oak Island North Carolina, with a 10-mile stretch of beach, is the largest beach community in North Carolina. The miles of beautiful beachfront lends itself to water sports of all types and all the other things you love to do at the beach. Oak Island has two piers, a marina and public launch facilities perfect for fishing, boating and other activities. Access to the Intracoastal Waterway and the Davis Canal provide for water access so you can go kayaking, boating and in-shore fishing. For water lovers, Oak Island North Carolina is a wonderful place to call home.
We have over 300 homes for sale in Oak Island among our listings. For beach and ocean lovers, these Oak Island homes are perfect homes just waiting for you to come and see all that they have to offer! No matter what size house you need or what your budget is, we're sure to have the perfect property for you and your family. Homes complete with all the accoutrements for luxurious indoor/outdoor living await you. For the serious boater, we have homes with their own docks that provide direct ocean access unobstructed by bridges.
Come take a look at the open floor plan that many of these homes have, making beach living easy with the open flow transitions. They boast sensational outdoor entertaining spaces with grilling decks that set the stage for social gatherings of any size. Homes displaying professional landscaping along with night lighting, phenomenal coastal views and large patios surrounding your own private pool, all add to what can be gracious living for you and your family.
Oak Island has two fishing piers and many seafood restaurants where you can dine out as often as you please. You'll have all the conveniences of living that you would hope to have including grocery stores, clothing stores, medical facilities and banks, etc., all easy accessible either right in Oak Island or nearby Southport.
---