Oak Island is Perfect for Retirees
Posted on 05/23/2014 in Oak Island
Earlier this month CBS News released the results of a survey they did when looking for the Top 10 Beach Towns for Retirees. We're thrilled to announce that Oak Island, North Carolina, came in at #3. That's no surprise to anyone that already lives in the area because it is such a beautiful and peaceful location with a small-town atmosphere that appeals to many. But for those looking around for a good place to retire, we hope you make the most of this recommendation and come take a closer look. If you're interested in seeing what Oak Island real estate is available start with our Re/Max at the Beach website.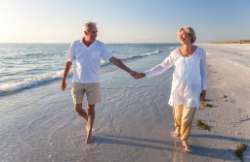 It's a perfect location for anyone that wants to live near the water. The Town of Oak Island has 65 public beach accesses on its 14 miles of south-facing sandy beachfront. Fishermen and boaters of all types will appreciate the fishing docks and piers, 3 public boat ramps, and many other access points to the Davis Canal and Intracoastal Waterway. This is truly a wonderful place to retire to if you love fishing, kayaking, boating and other water sports.
There's also a municipal golf course in the town as well as eight parks, a fishing T on the island's west end and a large park on the mainland that provides both baseball and football fields for public use. When the kids and grandkids come to visit they're sure to enjoy the skate park and dog park, too, a cabana on the oceanfront with an observation deck and plenty of assorted piers and two marinas worth checking out.
Most of the island belongs to the Town of Oak Island as well as areas on the mainland around both bridges, thousands of undeveloped land near the Swain's Cut Bridge and the golf course community of South Harbour Village. Retirees looking to stay active will appreciate the extensive sidewalk system for bikes and pedestrians to enjoy, recreation trails, numerous parks and playgrounds and a full service parks and recreation department. There are many programs and activities aimed toward retired citizens at the Parks & Recreation Department and the Oak Island Senior Citizens Center.
You'll also have easy access to a business district that includes convenience stores, banks, coffee houses, art galleries, ice cream parlors, bakeries, retail shops, restaurants, pubs, motels, service businesses, real estate and professional offices and medical facilities. The beachside of the island includes motels, rental cottages and condos, restaurants, piers, a few retail shops, pubs and a marina.
When you're ready to talk about real estate in Oak Island NC give us a call at Re/Max at the Beach at 910-842-8686 or 800-360-9770. If you'd prefer you can visit the Contact Us page on our website and we'll get in touch with you.