Don't Miss the Strawberry and Wine Festival
Posted on 04/11/2014 in Ocean Isle Beach
The popular Strawberry & Wine Fest will take place from 12 noon until 6 p.m. at the Silver Coast Winery in Ocean Isle Beach on Saturday, May 3, 2014. Come out and join us for a fun-filled day of wine, scrumptious food, lively entertainment, and many craft vendors.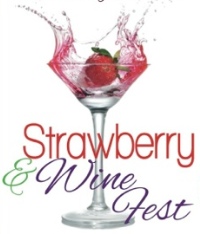 Entertainment will be provided all day by The Imitations -- a favorite group among the Carolinas. Known for their wide assortment of music, they'll have you on your feet dancing up a storm in no time at all. Dance lessons will be available with Calabash Flash.
Strawberries are the main fare of the festival -- chocolate covered, with short cake, and floating in a glass of wine. You're sure to enjoy them all. Don't pass up Jerome's Barbeque for some tasty barbecued food or the wine tastings either!
Take the time for a relaxed stroll around the groups to visit the craft vendors and you'll discover many authors, artists, and crafts galore. There will be jewelry, pottery, art, photography and more. Winery tours will be held at 1 and 3 p.m.
Organized by the Old Bridge Preservation Society the event will be held rain or shine so come prepared! There is a $5 admission fee. Silver Coast Winery is located at 6680 Barbeque Rd., Ocean Isle Beach. No coolers, outside beverage or pets please. For more information call 910-287-2800.
The Silver Coast Winery is owned by Dr. "Bud" and Maryann Azzato. They make all of their own wines that are modeled after traditional, classic and European styles. Wines are produced in-house by Dana Keeler, an award winning winemaker, using regionally grown grapes. Located in a beautiful woodland setting, the Silver Coast Winery in Ocean Isle Beach is perfect for wedding ceremonies, receptions and rehearsal dinners of any size. There is also a Silver Coast Winery Tasting Room located in downtown Southport, NC. There you can enjoy both wine and beer tastings as well as browse a gift shop and art gallery.