5 Reasons to Move to Sunset Beach
Posted on 09/05/2014 in Sunset Beach NC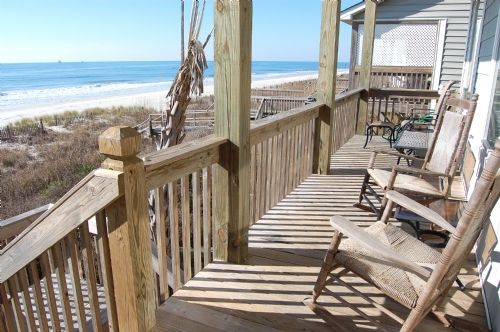 If you've always wanted to live in a seaside community, you want to raise a family where commercialism is at a minimum or if your retirement years have arrived and you're thinking of relocating, then Sunset Beach, North Carolina, is a place you should consider. The town consists of both a mainland community and a barrier island of approximately 1,200 homes. The island of Sunset Beach has an abundance of vacation rental homes and cottages, although there are close to 100 full-time residents as well.
When it comes to choosing a place to live we can think of 5 great reasons why you should choose Sunset Beach, North Carolina. You'll be happy you did. If you'd like to look at properties or you have any questions, let us help you at Re/Max at the Beach.
1. The Weather. Many seasonal vacationers to the area fall in love with the year round temperate weather we have to offer and eventually return to become residents. There's a lot to be said for the lack of ice, cold and snow we have to offer here as well as the year round outdoor activities.
2. The People. There's just something about living near the ocean that improves one's mental health and outlook on things. You'll quickly realize the people that live in this beachside community are friendly, happy and relaxed. It's just the beach lifestyle that does that to people!
3. The Beach. When you live in such a beautiful natural environment, where you can walk for miles along the clean, white sandy beachfront or enjoy a breathtaking sunrise and sunset every day, it really puts things into perspective for you. Leave your cares behind when you relocate here. You're in for a calmer, more relaxed way of life when you live in a beach community.
4. The Golf. You won't have to pack an overnight bag to go play your favorite sport. In fact, purchase a home here and you will be steps away from gorgeous fairways and manicured greens offering some of the best views ever. Three of the larger mainland communities in the Town of Sunset Beach are golf course developments -- Oyster Bay, Sea Trail Resort and Sandpiper Bay.
5. The Low Cost of Living. You will find real estate in Sunset Beach NC to be much more affordable than many other places across the country. Compared to the rest of the country, North Carolina's cost of living is 4.60% lower than the national average. Property taxes are lower as are the basic utilities we all need and use.
Take the time to peruse our properties for sale in Sunset Beach and the surrounding areas. If we can assist you in any way with fulfilling your relocation plans or finding that perfect piece of real estate, please give us a call at 910-842-8686 or 800-360-9770. We'd be happy to speak with you.